Posted October 7, 2020 in Press Releases
Akron-Canton Airport Unveils Pet Relief Area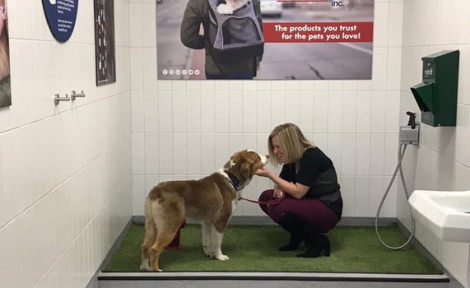 Sponsored by local manufacturer, Coastal Pet Products, Inc.
GREEN, OH - The Akron-Canton Airport (CAK) has partnered with Coastal Pet Products, Inc. of Alliance, OH to offer furry travelers a comfortable space for their needs.
In the new, modernized gates, travelers can find a sparkling pet relief area for their companions. Prior to this amenity, travelers would wait to enter the secure airside until close to their boarding time or leave the secure area only to be rescreened after using the outdoor facility with their animal.
The pet relief area is a comfortable spot for animals with artificial anti-microbial turf, fire hydrant, hose, gloves, waste bags, and waste receptacle.
Coastal Pet Products, Inc. President, Kim Stout with mascot Stryker and CAK's President and CEO, Ren Camacho celebrated the new partnership at a ribbon cutting Wednesday morning.
"Every decision we make strives to provide ease and convenience, and now we can confidently say we make travel easier for those with pets and service animals," said Camacho. "We are thankful to have an innovative, growing pet product expert just down the road from CAK and will value this partnership for years to come."
"Woof," said Stryker.
###
About Akron-Canton Airport
The Akron-Canton Airport (CAK) connects travelers to the world through nonstop and easy, one-stop flights. As Northeast Ohio's preferred airport, CAK ensures the health and well-being of passengers while providing an easy, convenient airport experience. Keep up to date on all things CAK at akroncantonairport.com, Facebook or Twitter and learn more about CAK's response to COVID-19. Akron-Canton Airport, a better way to go.®
---