Posted November 22, 2022 in Press Releases
7 Thanksgiving Travel Tips from CAK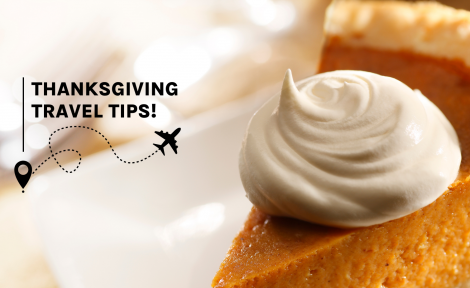 GREEN, OH – Traveling for the Thanksgiving holiday? Be sure to prepare for one of the busiest times to fly, especially if you are departing Wednesday the 23rd or returning Sunday the 27th!
Review the TSA travel checklist here; not only does the list include packing restrictions but also information on how security operates and what to expect. (Use @askTSA on Twitter, Instagram and Facebook to ask specific questions about what can go through security.)
Download your airline's app. You can use the app to check-in, receive flight updates, access terminal maps and make flight itinerary changes.
Bring charging cables to keep your phone charged for mobile boarding passes and on-flight entertainment.
Pre-purchase luggage and know your carrier's baggage policies before you arrive at the airport to save money and time.
Remember your ID. A federal or state issued ID is required for all passengers 18 and up. Find a full list of acceptable identification here.
Passengers with a disability or medical condition may call ahead to the TSA Cares toll free helpline at (855) 787-2227. CAK also offers the Sunflower Program for individuals with hidden disabilities.
Arrive 60-90 minutes before your scheduled departure time.
After splitting the wishbone, be sure to plan your upcoming travel with family and friends through CAK. Most airlines like Allegiant Air and Breeze Airways offer flight sales on Black Friday and Cyber-Monday.
Check CAK for flights aboard United Airlines, American Airlines, Allegiant Air, or Breeze Airways to 16 nonstop destinations, and one-stop access to the world.
###
About Akron-Canton Airport
Travelers can rest assured their journey through CAK is a safe and healthy one. As Ohio's first airport to receive accreditation under the Airports Council International (ACI) Airport Health Accreditation program, CAK has proven its commitment to customers by implementing cutting-edge practices and emerging technologies to ensure a clean environment for all at the airport. Learn more about CAK's health and safety procedures here.
The Akron-Canton Airport (CAK) connects travelers to the world through nonstop and easy, one-stop flights. As Northeast Ohio's preferred airport, CAK ensures the health and well-being of passengers while providing an easy, convenient airport experience. Keep up to date on all things CAK at akroncantonairport.com, Facebook or Twitter and learn more about CAK's response to COVID-19. Akron-Canton Airport, a better way to go.
---