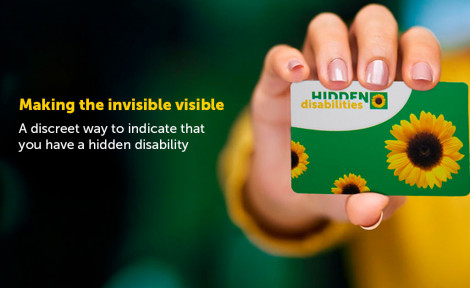 Expanding Efforts for Inclusion and Accessibility
GREEN, OH - Akron-Canton Airport (CAK) has launched a new program to make the airport more accommodating for travelers with hidden disabilities. The Sunflower Program offers free accessories to airport guests which discreetly indicate the wearer may need extra time or assistance while traveling through CAK.
The Sunflower Program allows travelers to self-identify that they may require additional support while passing through the airport. Sunflower Program accessories such as lanyards, pins or bracelets may be picked up at the Visitor Information Center, airline ticket counter, or requested through CAK's website ahead of travel.
"A top priority of ours is to ensure CAK is inclusive and accessible to all," said Ren Camacho, CAK President and CEO. "The Sunflower Program is a wonderful opportunity for our airport staff and tenants to demonstrate their care and compassion to all individuals, regardless of ability. This is one more step towards making the airport experience seamless and enjoyable, because everyone deserves to travel comfortably."
Hidden disabilities include autism, chronic pain, and learning difficulties; mental health conditions, mobility and speech impairments; and sensory loss such as speech, sight loss, hearing loss, or deafness. They also include respiratory conditions as well as chronic conditions such as diabetes and sleep disorders when these significantly impact day-to-day life.
Over 150 airports participate in the program globally, including 59 airports in the United States. Other airports with nonstop service to and from CAK that recognize the program include Charlotte (CLT), Ft. Lauderdale (FLL), New Orleans (MSY), Orlando (MCO), Philadelphia (PHL), Orlando/Sanford (SFB), and Tampa (TPA).
The Sunflower Program is voluntary, and passengers are not required to participate. In addition, participants may choose to disclose their disability on the card but do not have to. They may also note a contact name and phone number, which can be helpful if separated from their party.
Wearing a lanyard does not guarantee fast-tracking through security or any preferential treatment. Passengers are still encouraged to arrange special assistance with their airlines and the Transportation Security Administration (TSA) for TSA Cares.
TSA Cares is a helpline that provides travelers with disabilities, medical conditions and other special circumstances additional assistance during the security screening process. Travelers requiring special accommodations or concerned about the security screening process at the airport may ask a TSA officer or supervisor for a passenger support specialist who can provide on-the-spot assistance.
Learn more about the Sunflower Program at CAK here.
About Akron-Canton Airport
Travelers can rest assured their journey through CAK is a safe and healthy one. As Ohio's first airport to receive accreditation under the Airports Council International (ACI) Airport Health Accreditation program, CAK has proven its commitment to customers by implementing cutting-edge practices and emerging technologies to ensure a clean environment for all at the airport. Learn more about CAK's health and safety procedures here.
The Akron-Canton Airport (CAK) connects travelers to the world through nonstop and easy, one-stop flights. As Northeast Ohio's preferred airport, CAK ensures the health and well-being of passengers while providing an easy, convenient airport experience. Keep up to date on all things CAK at akroncantonairport.com, Facebook or Twitter and learn more about CAK's response to COVID-19. Akron-Canton Airport, a better way to go.