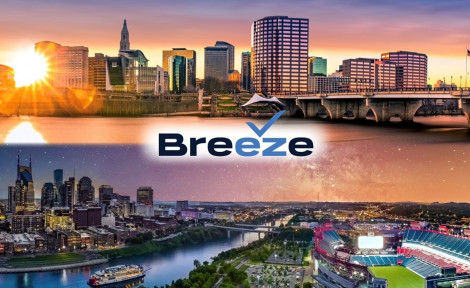 Two New Nonstops Announced at Akron-Canton Airport
Breeze Airways to Fly Nonstop to Nashville and Hartford
GREEN, OH – Breeze Airways is growing at Akron-Canton Airport (CAK)! We are happy to announce an additional two new nonstops that will soon connect Northeast Ohio travelers to Nashville, TN (BNA) and Hartford, CT (BDL.)
With four existing destinations, Breeze will now fly nonstop from CAK to six cities.
"Breeze Airways' growth at the Akron-Canton Airport is a true testament of community support. This exciting partnership is the culmination of long-time passenger traffic, history of air service, public and private sponsorship and the airport's dedication to airline success," said Ren Camacho, President and CEO of the Akron-Canton Airport. "We're thrilled to launch these two markets that serve both the leisure and business communities, we anticipate long term success for each route."
Nashville, TN (BNA) will operate year-round on Thursday, Friday, Sunday and Monday, starting May 26, 2022. The route will be operated aboard the E190/E195.
Hartford, CT (BDL) will launch as a summer seasonal route and operate Friday and Monday, starting June 3, 2022. The route will be operated aboard the A220-300.
"We welcomed Breeze Airways to Columbus and Akron-Canton less than a year ago, and it's great to hear that they already intend to expand their flights coming into and out of Ohio," said Ohio Governor Mike DeWine. "Expanded air service like this is important for Ohio's economy because it gives industries increased access to Ohio's markets and provides a financial boost for our local communities and companies."
Breeze, which began service in May, 2021 primarily in the east and southeast of the United States, is now expanding across the U.S. with 77 routes between 28 cities in 18 states.
"Vibrant air service is an important component of Ohio's growing economy, and JobsOhio is pleased to announce more success with the Air Service Restoration Program," said J.P. Nauseef, JobsOhio President and CEO. "Ohio's businesses and consumer travel are creating highly sustainable routes and making Ohio's airports a bigger and bigger draw for future service."
Breeze's two new routes will bring CAK's total number of current, nonstop destinations to 17. Thirteen routes are year-round: Charlotte, Charleston, Chicago, Nashville, Orlando, Palm Beach, Philadelphia, Punta Gorda/Ft. Myers, Sarasota/Bradenton, Savannah/Hilton Head, St. Pete/Clearwater, Tampa, Washington D.C. Four routes are seasonal, Ft. Myers, Hartford, Myrtle Beach and New Orleans.
"It's so exciting to announce our fifth and sixth nonstop destinations from Akron-Canton, to Hartford, CT and Nashville, TN," said Breeze's Founder and CEO David Neeleman. "In by-passing hubs for nonstop service, Breeze gets you there twice as fast for about half the price."
Breeze Airways is offering fantastic promotional fares for each route:
Nashville, TN (Nice from $39* one way; Nicer from $89*)
Hartford, CT (Nice from $49* one way; Nicer from $89*; Nicest from $99*).
*Introductory fares promotion is only available when booking a new reservation and on select routes. Supply is limited. No advance purchase requirement applies. Promotion must be purchased by March 11, 2022 (11:59 pm ET) for travel by August 31, 2022. Blackout dates are, but also not limited to, June 30, 2022 through July 5, 2022. Price, rules and routes displayed includes taxes & government fees. Prices, rules, routes, and schedules are subject to change without notice. Restrictions and blackout dates may apply.
###
About Akron-Canton Airport
Travelers can rest assured their journey through CAK is a safe and healthy one. As Ohio's first airport to receive accreditation under the Airports Council International (ACI) Airport Health Accreditation program, CAK has proven its commitment to customers by implementing cutting-edge practices and emerging technologies to ensure a clean environment for all at the airport. Learn more about CAK's health and safety procedures here.
The Akron-Canton Airport (CAK) connects travelers to the world through nonstop and easy, one-stop flights aboard Allegiant Air, American Airlines, Breeze Airways, Spirit Airlines and United Airlines. As Northeast Ohio's preferred airport, CAK ensures the health and well-being of passengers while providing an easy, convenient airport experience. Keep up to date on all things CAK at akroncantonairport.com, Facebook or Twitter and learn more about CAK's response to COVID-19. Akron-Canton Airport, a better way to go.