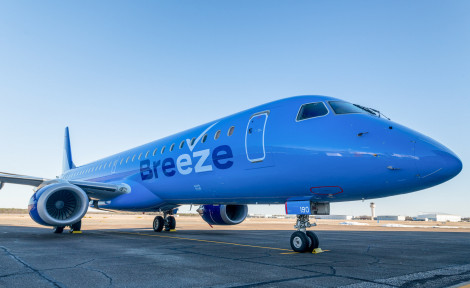 Breeze Airways Takes Flight at Akron-Canton Airport
Historical milestone for airport to welcome startup airline
GREEN, OH – Breeze Airways commences service at the Akron-Canton Airport (CAK) today with year-round, nonstop service to Tampa International Airport (TPA).
"This partnership with Breeze provides such an exciting opportunity to improve our quality of life by providing nonstop, point to point connections that allow the exploration of new places, meeting of new people, and new opportunities," said Ren Camacho, President and CEO of the Akron-Canton Airport. "We are so thankful to be one of 16 airports on Breeze's inaugural network that will enjoy this truly unique service, at ultra-low fares. The community has responded well and booked seats, so we anticipate the opportunity for future growth."
Airport and airline executives are treating passengers to a gate party complete with a caricature artist providing drawings, games, a press conference and a ceremonial cake cutting. Upon arrival, the first inbound flight will be welcomed with a traditional water cannon salute and champagne christening.
The celebration continues as CAK welcomes nonstop service to Charleston (CHS) on July 8th and New Orleans (MSY) on July 15th.
Breeze's three routes will bring CAK's total number of current, nonstop destinations to 11. Nine of the routes are year-round: Charlotte, Charleston, Chicago, New Orleans, Orlando, Philadelphia, Tampa, Washington D.C., Washington Dulles. Two routes, Ft. Myers and Myrtle Beach, are seasonal.
"Ohio is proud to welcome Breeze Airways to our state," said Lt Governor Husted. "Air transportation is an essential part of business and tourism growth, and a key economic driver. This launch represents the strength of Northeast Ohio's communities and workforce, and is another example of Ohio's standing as a premier destination for business expansion."
Founded by successful airline entrepreneur, David Neeleman, the airline promises to make the world of travel simple, affordable, and convenient. Improving the guests' travel experience using technology, ingenuity, and kindness.
###
About Akron-Canton Airport
Travelers can rest assured their journey through CAK is a safe and healthy one. As Ohio's first airport to receive accreditation under the Airports Council International (ACI) Airport Health Accreditation program, CAK has proven its commitment to customers by implementing cutting-edge practices and emerging technologies to ensure a clean environment for all at the airport. Learn more about CAK's health and safety procedures here.
The Akron-Canton Airport (CAK) connects travelers to the world through nonstop and easy, one-stop flights. As Northeast Ohio's preferred airport, CAK ensures the health and well-being of passengers while providing an easy, convenient airport experience. Keep up to date on all things CAK at akroncantonairport.com, Facebook or Twitter and learn more about CAK's response to COVID-19. Akron-Canton Airport, a better way to go.
About Breeze Airways
Founded by aviation entrepreneur David Neeleman, Breeze Airways is a new low cost airline offering point-to-point flights from smaller secondary airports, bypassing hubs for shorter travel times. Breeze's team is a group of aviation experts and fanatics, working day and night to build a 'Seriously Nice' airline. Breeze's mission is to make the world of travel simple, affordable and convenient, using technology, ingenuity and kindness to improve the travel experience. Flights can be booked at flybreeze.com.