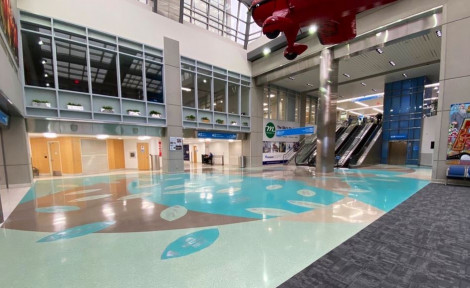 Akron-Canton Airport Unveils Iconic Atrium Art Installation
Celebrating diverse collection of people, places and events that have shaped Akron-Canton
GREEN, OH – The Akron-Canton Airport (CAK) unveiled its iconic atrium art installation this morning, alongside local artist Lenny Spangler.
Through CAK's mission to enrich the passenger experience through visually engaging works reflective of its community, Akron-based Spengler was commissioned to design the terrazzo floor artwork.
The artwork, "Tree of Life", is meant to be a timeless piece that best represents a "sense of place" of the Akron-Canton community. The depictions reflect the cultural heritage of the Akron-Canton region, while instilling a lasting impression on travelers, at the beginning and end of their journey. The artwork breathes new life to the space while creating a calming flow as guests move throughout the terminal.
"Aside from helping to beautify an already beautiful airport and teaching out-of-towners, and perhaps some locals, as well, about our history, maybe one of the most important things about this installation is the 'sense of place' that this instills," said Spangler. "This is who we are. This is where we came from. these are the people, places and events that have helped make our community what it is today, and I am very proud to be a part of it."
The Tree of Life is comprised of 46 leaves, a number which commemorates the inception of the Akron-Canton Airport in 1946.
"The leaves identify important people, places, and events that have helped shape the Akron-Canton community through leadership, social responsibility, mentorship, and effective change," said Ren Camacho, Akron-Canton Airport President and CEO. "With a passion for their craft and inclusive, equitable mindset, the honorees have made significant contributions to the region in their own way. Some have sought to overcome social, environmental, and economic barriers, while others have promoted development of our institutions to make our region better for generations to come."
The criteria for selecting the artwork is based in four major areas:
Leadership – The extent to which their action would be recognized and valued by their peers, community leaders and a global or national audience
Social Responsibility - The degree to which their services and actions have made positive social change and impact to the community.
Mentorship – The selfless length, degree of service, and influence to the Akron-Canton Region
Change Agent – The extent to which their influence or action contributed to the economic prosperity of the Akron-Canton region and beyond
Over 25 artist submissions were reviewed by a panel made up of representatives from Arts Now, ArtsInStark and CAK. Other parties involved in the creation include Spengler, SOL Harris Day Architecture, The Knoch Corporation and Youngstown Tile and Terrazzo Company.
The $150,000 budgeted installation is the final interior component to CAK's $34 million Gate Modernization Project. The modern facility provides a positive, lasting impression for those traveling to and from the region.
To learn more about the art and honorees, visit the dedicated webpage here.
###
About Akron-Canton Airport
The Akron-Canton Airport (CAK) connects travelers to the world through nonstop and easy, one-stop flights. As Northeast Ohio's preferred airport, CAK ensures the health and well-being of passengers while providing an easy, convenient airport experience. Keep up to date on all things CAK at akroncantonairport.com, Facebook or Twitter.
As Ohio's first airport to receive accreditation under the Airports Council International (ACI) Airport Health Accreditation program, CAK has proven its commitment to customers by implementing cutting-edge practices and emerging technologies to ensure a clean environment for all at the airport. Learn more about CAK's health and safety procedures here.
Akron-Canton Airport, a better way to go.