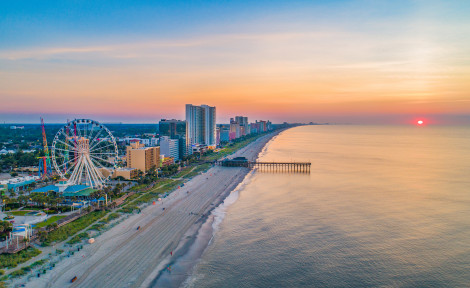 Green, OH - Tee up your vacation plans, because Spirit Airlines launches nonstop service to Myrtle Beach International Airport (MYR) from Akron-Canton Airport (CAK) starting April 15, 2021.
"This route has been years in the making. From tracking local demand to monitoring the increase in leisure travel, we are confident this route matches the needs of our community," said Akron-Canton Airport President and CEO, Ren Camacho. "We are thrilled to offer additional low fare options to our customers as Spirit Airlines expands their nonstop network at CAK."
Myrtle Beach has ranked in the top 15 markets for CAK passengers for years and has remained a top destination for the region through 2020, whether by car or plane.
"Our Guests love our low fares and nonstop flights to their favorite vacation spots, and we know Myrtle Beach is high on the list," said Nick Bartolotta, Director of Network Planning at Spirit Airlines. "For years, Akron-Canton's travelers have relied on our top-tier on-time performance to get to Florida. Adding South Carolina gives them more places to have fun without breaking the bank."
Spirit will fly to MYR twice a week—on Thursday and Sunday—for extended weekend getaways. The airline could add additional flights based on demand.
"Spirit's decision to introduce service from Akron-Canton Airport to Myrtle Beach International Airport is exciting news for both destinations," said Scott Van Moppes, Director of Airports at Myrtle Beach International Airport. "Spirit has been a vital partner to both MYR and the local community, and we thank them for their continued commitment to our market."
This is the second new route launched in recent months. In December, United Airlines successfully launched nonstop service to Washington-Dulles (IAD).
"CAK is grateful for Spirit's commitment to the region and ability to connect the Akron-Canton community to a favorite family vacation destination. As passengers continue to choose CAK as their preferred airport, we can anticipate the announcement of additional routes in the future," said Camacho.
Travelers can rest assured their journey to Myrtle Beach is a safe and healthy one. As Ohio's first airport to receive accreditation under the Airports Council International (ACI) Airport Health Accreditation program, CAK has proven its commitment to customers by implementing cutting-edge practices and emerging technologies to ensure a clean environment for all at the airport. Learn more about CAK's health and safety procedures here.
2021 is off to a great start at Spirit Airlines. In January, the carrier launched its new Free Spirit loyalty program, which is the fastest way to earn rewards and status.* Spirit is also one of only three U.S. airlines listed on FORTUNE's 2021 list of World's Most Admired® Companies, which measures companies with the strongest reputation within their industries.
Guest Safety
Spirit's commitment to Safe Travels includes a multi-layered safety approach that requires all Guests and Team Members to wear face coverings. Each passenger agrees to that policy as part of a health and safety acknowledgement prior to boarding the aircraft. Every plane in our Fit Fleet® uses state-of-the-art, high-efficiency particulate air (HEPA) filters that capture 99.97% of particles and filter the air for contaminants every 3 minutes.
Between each flight, enhanced cleaning procedures focus on high-touch areas such as tray tables and armrests. Spirit also uses two EPA-registered fogging treatments. The first applies a safe, high-grade disinfectant that's effective against coronaviruses. The second uses an antimicrobial product that forms an invisible barrier on all surfaces that kills bacteria and viruses on contact for 30 days. Please visit Spirit's COVID-19 Information Center for more information on safety enhancements.
*Based on points earned on published fares (excluding sale fares) and optional services using the Free Spirit Credit Card (the "Card"), and includes status qualifying points earned by spending on Spirit and everyday purchases using the Card.
###
About Akron-Canton Airport
The Akron-Canton Airport (CAK) connects travelers to the world through nonstop and easy, one-stop flights. As Northeast Ohio's preferred airport, CAK ensures the health and well-being of passengers while providing an easy, convenient airport experience. Keep up to date on all things CAK at akroncantonairport.com, Facebook or Twitter and learn more about CAK's response to COVID-19. Akron-Canton Airport, a better way to go.
About Spirit Airlines:
Spirit Airlines (NYSE: SAVE) is committed to delivering the best value in the sky. We are the leader in providing customizable travel options starting with an unbundled fare. This allows our Guests to pay only for the options they choose — like bags, seat assignments and refreshments — something we call Á La Smarte. We make it possible for our Guests to venture further and discover more than ever before. Our Fit Fleet® is one of the youngest and most fuel-efficient in the U.S. We serve destinations throughout the U.S., Latin America and the Caribbean, and are dedicated to giving back and improving those communities. Come save with us at spirit.com.