Posted on November 23, 2010 by
in
Construction
The making of an amazing event - Runway 5/23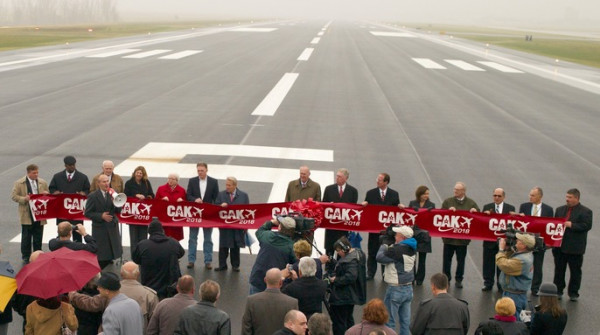 Last Thursday while light mist was dripping from the sky and airplanes were taxiing by, we saw a dream become a reality. More than 100 friends, partners, community leaders and team members gathered to celebrate the commissioning of Runway 5/23.

The runway isn't new. Actually, it was built as part of the original airfield back in 1946. Why then is this so significant? Well, it's because this runway is more than just pavement, it is a truly a path to our future. Now, if an airline wants to, they can fly nonstop from CAK to just about anywhere in North America. Up until that important moment, airlines couldn't fly much further than Las Vegas from here. So now, 5/23 is our runway to the future.

One of my favorite duties at CAK is Chief Party Planner. Ryan, Kim and I knew that this celebration had to be really special. It is very likely that we will never commission another runway at CAK again (certainly not during my career here at least), so we wanted this to be an event to remember. Rick wanted a lunch and a really cool ribbon cutting. I wanted music, a cool back drop and a magical experience for our guests. Ryan was gunning for the best swag ever… a little piece of the runway itself. Kim was in charge of making AirTran passengers happy at their gate. We all hoped for a big media splash too.

The formal ceremony started out at our firehouse. We brought in pipe and drape, super cool lights and a wonderful local singer and song writer named Zach. Rick thanked every single person who had a part in the completion of our largest single capital project in history. A beloved former congressman spoke of our past and our future. And then we took a wonderful ride…down the runway itself…all 100 of us.

During the ribbon cutting Rick said, "Let's get this thing open!" And we did. After rolling the ribbon back up we drove procession style (2 sheriff's cars, 1 big fire truck, a media bus, a VIP van and 3 large coaches) to an aircraft holding pad where we all witnessed an AirTran Airways Boeing 737 taking off, up close and personal.

It may not sound like much but this was a huge effort. Everyone on our team worked hard to be sure that it was a day to remember and it was. Life goes by so quickly. Let's not forget to celebrate our milestones and drink in the important moments. As Fred Krum, our late airport director used to say, "Every moment is a gift."

View a short video of the commissioning ceremony here.
---