Posted on October 7, 2011 by
in
Marketing
Peace, Love and CAKiness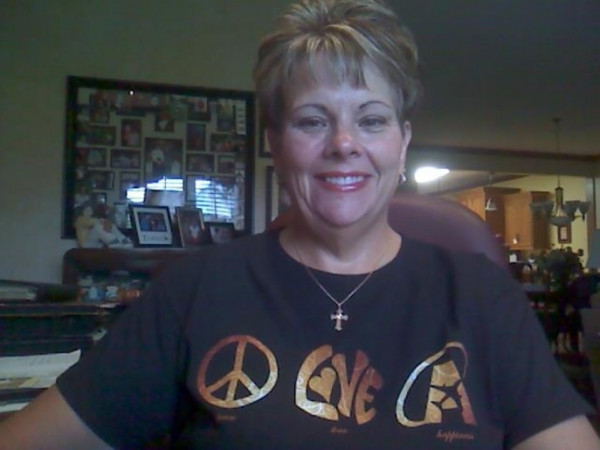 My heart broke just a little this week when T-shirt Tuesdays, one of our most successful Facebook contests ever, ended. We started T-shirt Tuesdays in July and continued it longer than we had planned – all the way to October.

The premise was simple. Every Tuesday, we gave away 10 of our groovy Peace, Love and Happiness CAK T-shirts to our fans. We've held quite a few contests over the years and have given away everything from airlines tickets to trips. But say the words – free T-shirts – and they came running!

Many brands on Facebook use contests as a way to engage their community. We counted this as a success gaining over 5,000 fans and thousands of opt-ins to CAK Connections, our email newsletter (sign up on the home page of our new website)

Perhaps this was the biggest unexpected benefit – a couple hundred people wearing a T-shirt with our brand on it. Many sent us pictures to prove it. Shout-out to Mary Ann in the photo above! And now we know hundreds of you by name and are happy to know you as friends and in some cases, FANATICS of CAK.

So what made this contest different for us? (Social media managers take note):
1. We didn't just give away one big prize like most contests. Giving away 10 each week made for more winners and generated more excitement.
2. This wasn't just any t-shirt. It was a design the fans loved. Our super cool creative director, Dave Derby (another shout-out!) came up with the idea to brand our VIP Relaxation Station at the House of Blues in Cleveland with this design. We loved it so much that we put in on a T-shirt. We gave away a few as gifts. Then we thought our Facebook fans would love them. And they did.

In the end, we had more entrants than winners. And we know many of you really wanted a T-shirt and didn't get it. But something tells me this is not the end for our Peace, Love and Happiness tees. T-shirt Tuesdays 2.0 could be a great name for another contest someday.
---