Posted on November 15, 2017 by
Lisa Dalpiaz
in
Fun
2017 Thanksgiving Travel Tips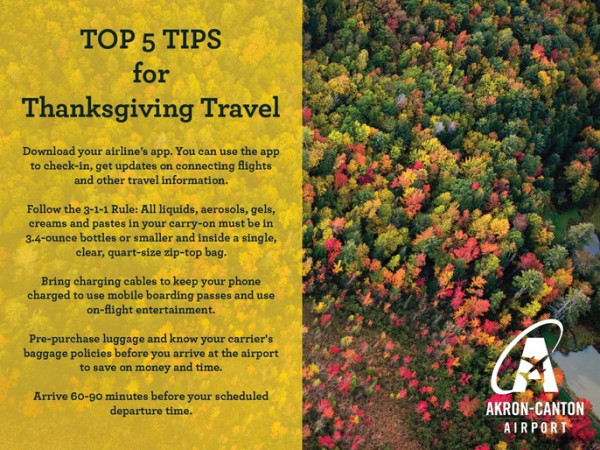 TOP 5 TIPS for Thanksgiving Travel
Flying through CAK is easy-breezy, even during the busy Thanksgiving travel season. Take these five tips to make getting ready for your trip that much easier.
Download your airline's app. You can use the app to check-in, get updates on connecting flights and other travel information.
Follow the 3-1-1 Rule: All liquids, aerosols, gels, creams and pastes in your carry-on must be in 3.4-ounce bottles or smaller and inside a single, clear, quart-size zip-top bag. (Use @askTSA on Twitter, Instagram and Facebook to ask specific questions about what can go through security.)
Bring charging cables to keep your phone charged to use mobile boarding passes and use on-flight entertainment.
Pre-purchase luggage and know your carrier's baggage policies before you arrive at the airport to save on money and time.
Arrive 60-90 minutes before your scheduled departure time.
Still looking to book that trip? Remember to book CAK aboard American, Delta, Spirit or United to one of 13 nonstop destinations, or just one-stop to your favorite locations.
From the entire team at CAK, enjoy your holiday and happy travels!
---