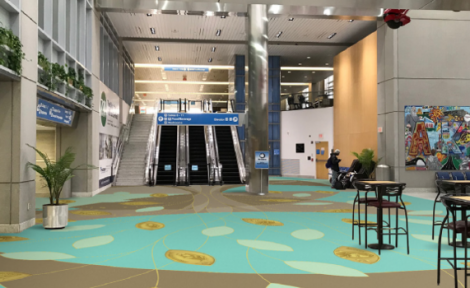 Akron-Canton Airport Reveals Winning Artist and Design for Iconic Atrium Art
GREEN, OH - Today, the Akron-Canton Airport reveals the winning artist and design for its atrium terrazzo art project.
Local artist Lenny Spengler, of Akron, Ohio, has been selected to design an iconic centerpiece for CAK and the traveling public. Born and raised in Akron, Spengler will lead the effort to preserve and advance the area's diverse culture and creative community through this public art piece.
Spengler is the Sole Proprietor and Creative Director of Where's Squiggy Creative LLC, an Akron based creative agency, and Owner and Silversmith of Studio Lené, an Akron metalsmith studio. He has over 24 years of experience in the creative world.
"CAK is more than a facility that travelers pass through, we are the first and last impression of the greater Akron-Canton region," said Ren Camacho, President and CEO of CAK. "Our public art project is critical to creating a sense of place and delivering our customers a unique and engaging experience."
The commissioned art depicts a tree full of history and culture spanning the full size of the airport's terminal atrium.
"A tree rooted in the Akron-Canton area can attribute its flourishing to the diverse collection of people, places and events that have shaped it," said Spengler. "The people who have helped establish it as a city, the places that have helped define its purpose, and the events that have helped illustrate its image, are all leaves on the tree."
With this piece, travelers will enjoy a visual reprieve; a feeling of home for returning travelers and a sense of discovery for visitors.
Over 25 artist submissions were reviewed by a panel made of representatives from Arts Now, ArtsInStark and CAK. Other parties involved in the creation include Spengler, SOL Harris Day Architecture, The Knoch Corporation and Youngstown Tile and Terrazzo Company.
"A very competitive and thorough evaluation was completed by our panel, and the decision was not an easy one," said Camacho. "Submissions were rated by a number of measures, but most importantly we were looking for a piece that resonated a 'sense of place', proved to be timeless, and sparked conversation. We believe Spengler's design went above and beyond to check all boxes."
All artists' contact information will be retained for future CAK art projects, as many of the submittals would complement other spaces in the terminal.
The project is anticipated to be complete by November 2020.