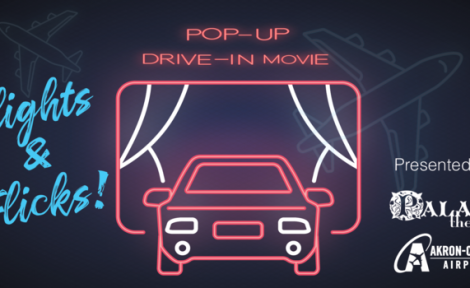 Akron-Canton Airport Partners with The Canton Palace Theater to Host Drive-In Movie
GREEN, OH – Akron-Canton Airport (CAK) and The Canton Palace Theater have teamed up to host the surrounding community for a pop-up drive-in movie. CAK's contribution of available space and The Palace's expertise makes a perfect combination.
"Akron-Canton Airport proactively explores different opportunities to welcome the public to the airport," said Ren Camacho, CAK President and CEO. "While we have had to delay some of our community events like our CAK 5K on the Runway and Trick or Treat in the Terminal due to COVID-19, we are delighted to offer a safe, distanced event for the whole family to enjoy."
On Saturday, October 17, 2020, at 6:45 PM, the fan-favorite film, Harry Potter and the Sorcerer's Stone will be shown at CAK's off-site parking lot, located at the corner of Lauby and Mt. Pleasant Roads. Gates will open at 5:00 PM.
Featuring no-contact ticketing, guests can reserve space online in advance, then check-in upon arrival. No physical ticket is needed, and admission is $20 per car. Additionally, traditional theater concessions can be reserved ahead of time and picked up upon arrival. Purchases must be received by 3 PM, October 17.
For those looking for something more than popcorn, local food trucks will also be on-site to provide a variety of menu options.
In compliance with local and state public health agencies' mandates, social distancing and other safety precautions will be implemented. Cars will be parked in a "checkerboard" pattern to maintain social distancing, and optimal viewing. Moviegoers are required to stay in their vehicles during the movie and face coverings must be worn when unable to maintain 6-foot social distancing from those not in your household.
"We are excited to enter into this partnership with the Akron-Canton Airport for the upcoming movie event," said Georgia Paxos, Executive Director at The Canton Palace Theater. "CAK is a tremendous asset to our community and we can't think of a better way to celebrate fall and films, than with Flights & Flicks Drive-In Movie. We hope this is the start of more fun and exciting things to come at the airport."
Tickets and concessions are available through The Canton Palace Theater's website box office. Those interested can also invite their friends and family via the Facebook Event Page.