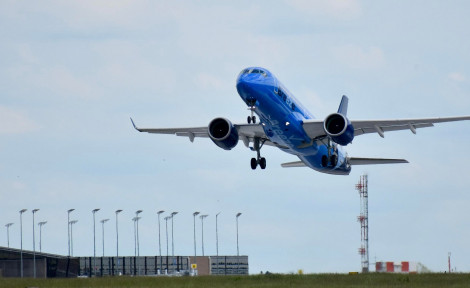 Great Beaches and Warm Weather Await
Akron-Canton Airport adds another convenient and efficient travel option
GREEN, OH – New, nonstop service to Ft. Myers aboard Breeze Airways is officially underway at Akron-Canton Airport (CAK). The new route operates on Tuesdays, Thursdays, and Sundays with fares starting from just $49* one way on select dates.
With cooler fall temperatures and winter quickly approaching, we know Northeast Ohio travelers are looking for a seamless experience to the many beaches and warm weather Ft. Myers has to offer. The route is part of Breeze Airways continued expansion at CAK, which pairs an easy airport experience with exceptional air service, offering travelers a better way to go.
"We're celebrating another convenient nonstop option aboard Breeze Airways with service to Ft. Myers now underway," said Lisa Dalpiaz, Vice President of Air Service & Business Development at Akron-Canton Airport. "Ft. Myers is a beloved destination for Northeast Ohio residents and we are sincerely grateful to Breeze Airways for their ongoing partnership and commitment to expanding connectivity."
Breeze offers its Guests both bundled and ala carte options known as Nice, Nicer, and Nicest on flights operated with the Airbus A220-300. The Nicest bundle, which is available to those booking service to Ft. Myers features Breeze Ascent, two checked bags, and complimentary snacks and beverages, including alcohol.
From Akron-Canton Airport, Breeze offers nonstop service to Charleston, SC; Ft. Myers, FL; Las Vegas, NV; Norfolk, VA; Orlando, FL; Raleigh-Durham, NC; Tampa, FL; and Palm Beach, FL.
Breeze became CAK's largest carrier upon launch of the new Ft. Myers service. In October, Breeze announced nonstop service to Raleigh-Durham, starting February 2, 2024. The service includes a one stop/no plane change BreezeThru option for those looking to visit New Orleans.
"We are thrilled to see nonstop service to Ft. Myers underway at CAK, a route that provides Northeast Ohio with convenient and efficient travel options," said Ren Camacho, Akron-Canton Airport President and CEO. "This route, along with recently announced nonstop service to Raleigh-Durham exemplifies Breeze Airways' commitment to enhancing the passenger experience through connectivity to in-demand destinations."
Breeze doesn't charge change or cancellation fees up to 15 minutes prior to departure and offers other benefits such as free family seating and a la carte pricing. With seamless booking, no change or cancellation fees, up to 24-months of reusable flight credit and customized flight features delivered via a sleek and simple app, Breeze makes it easy to buy and easy to fly.
Learn more about Breeze's flight offerings via their site or the app.
###
ABOUT THE AKRON-CANTON AIRPORT
Akron-Canton Airport (CAK) connects travelers to the world through nonstop and easy, one-stop flights. As Northeast Ohio's preferred airport, CAK ensures an easy and convenient airport experience. Keep up to date on all things CAK at akroncantonairport.com
Akron-Canton Airport, a better way to go.
MEDIA CONTACT
Lisa Dalpiaz
Vice President of Air Service and Business Development
ldalpiaz@akroncantonairport.com
Phone: 330.499.4059