Posted October 29, 2023 in Press Releases
Connecting Kids with Aviation, in a Not-So-Scary Setting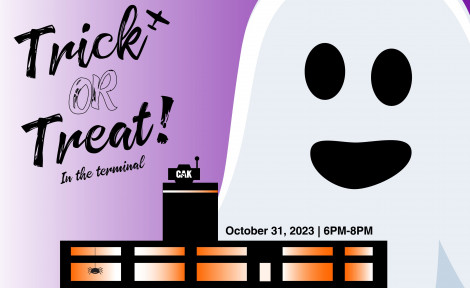 CAK Set to Host Trick-or-Treat in the Terminal
Akron-Canton Airport (CAK) will host Trick-or-Treat in the Terminal on Tuesday, October 31, 2023 from 6pm-8pm. The Not-So-Scary event presented by Akron Children's Hospital & Castle Aviation will allow the community to enjoy FREE admission to a safe (and warm) Halloween experience within the airport.
"Connecting with our community in a meaningful way is a core value of ours, and outreach to kids about future opportunities in aviation and travel is close to our hearts," said Lisa Dalpiaz, CAK's Vice President of Air Service and Business Development. "We hope the community will enjoy the facility, interact with aviation experts, and have a great time with family and friends."
Some of the highlights include not-so creepy crafts, several festive photo opportunities and a robust Touch-a-Truck experience in front of the terminal with local first responders.
"Halloween is the perfect opportunity for individuals to dream of what they want to be when they grow up," said Dalpiaz. "Why not dream of being a pilot, an aircraft mechanic or a helpful airline gate agent? We want CAK to be the source of inspiration for those dreams."
Since this event is "not-so-scary," children of every age can enjoy the fun! The airport asks that the following be considered before attending the event:
1. Costumes must be family-friendly and may not be obstructive, offensive, objectionable or violent.
2. Costumes may not contain any weapons that resemble or could easily be mistaken for an actual weapon.
Parking for the event is complimentary — passes will be handed out at check-in inside Door #3. Attendees should use our Short Term lots for complimentary passes.
---