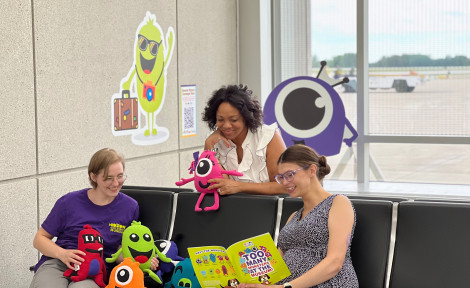 GREEN, OH - Akron-Canton Airport (CAK) is pleased to announce a partnership with Akron Children's Museum featuring a new interactive experience at the airport called the Monster Mystery Scavenger Hunt. The scavenger hunt revolves around a series of friendly themed monster graphics that can be found throughout the concourse post-security.
The friendly monsters depict jobs within the airport and around the airfield including a ticketing agent, police officer, pilot, mechanic, air traffic controller, and more.
The initiative shines a spotlight on future career opportunities for young travelers, while building upon the airport's ongoing commitment to elevating the guest experience through community partnerships. Passengers will notice the first monster graphic just after they exit the security screening checkpoint.
Each monster has a visible QR code that links to programming for the interactive component of the experience.
"We are excited to be partnering with Akron Children's Museum on this children-centric initiative," said Ren Camacho, President and CEO of Akron-Canton Airport. "We are delighted to share this fun and engaging experience with our community, while continuing to curate a sense of place through community partners."
There are nine friendly monsters positioned apart from each other to span the entire length of the concourse. The airport has already received positive feedback though their social media channels from families who enjoyed searching for the monsters prior to their departure.
The airport hopes that this initiative will also encourage those visiting the region to take a trip to Akron Children's Museum.
"We are thrilled to extend the museum's play opportunities into the Akron-Canton Airport," said Traci Buckner, Executive Director at the Akron Children's Museum. "This partnership will allow children and families from across the globe to experience the power of play during their travels in our community."
Those with upcoming travel can learn more about the Monster Mystery Scavenger Hunt at https://akronkids.org/sites/default/files/images/airport-scavenger-hunt.png
About Akron-Canton Airport
Akron-Canton Airport (CAK) connects travelers to the world through nonstop and easy, one-stop flights. As Northeast Ohio's preferred airport, CAK ensures an easy and convenient airport experience. Keep up to date on all things CAK at akroncantonairport.com, Facebook, Instagram, X, and LinkedIn. Akron-Canton Airport, a better way to go.
###
MEDIA CONTACTS
Lisa Dalpiaz
Akron-Canton Airport
Vice President of Air Service and Business Development
ldalpiaz@akroncantonairport.com
Phone: 330.499.4059
Victoria Schmidt
Akron Children's Museum
Outreach Coordinator
Phone: 724.683.5649