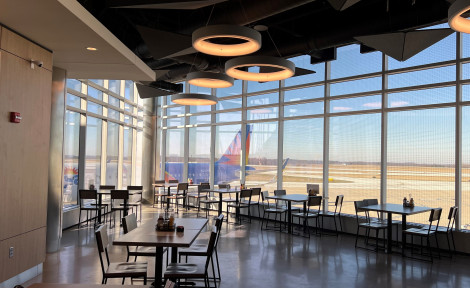 Now Arriving at Akron-Canton Airport: The Observation Deck
CAK Opens New Restaurant with Airfield Views for Travelers
GREEN, OH – The Observation Deck, a new full-service restaurant and bar at the Akron-Canton Airport (CAK) has opened just in time for spring break travel.
CAK's newest dining option is offering travelers a taste of local cuisine with a splendid view of the airfield activity. The Observation Deck's signature menu will offer a variety of options from seasonal salads to breakfast served all day, including lox bagel, avocado toast and pancakes.
"As we debut The Observation Deck, we are excited to combine a menu reflecting local favorites with the unique view of our active airfield," said Ren Camacho, Akron-Canton Airport President and CEO. "We have been working diligently to strengthen the sense of place for our travelers, and we're pleased to present The Observation Deck to both residents and visitors of our region."
Customers will also find a familiar favorite on the menu, Menches Brothers Hamburgers. Partnering with Menches through United Concessions Group (UCG) advances efforts to showcase Northeast Ohio for those looking to support 'local' when they land at the airport.
The much-anticipated sit-down restaurant will be open seven days a week, from 4:30am until the last flight of the day. Travelers can choose from specialty burger options including the King James burger, the Hall of Fame burger, and the Observation Deck burger as well as quick grab and go options that are integrated into the restaurant build.
"We continue to explore avenues to make CAK a better way to go, and often find ways to do just that by listening to our customers," said CAK President and CEO, Ren Camacho. "Through social media, we knew that our community was looking for a viewing space overlooking the active airfield. We're pleased to offer The Observation Deck restaurant in response."
"It has always been our dream to take our family's original hamburger recipe and story global," said John Menches, CEO of Menches Brothers Restaurants. "This partnership with UCG and the Akron-Canton Airport allows us to meet travelers from around the world, and adds to our mission in carrying on the legacy of our great-grandfather and great-uncle, Charles & Frank Menches."
Concessions at the airport will continue to expand, while reflecting the Akron-Canton and Northeast Ohio region.
###
ABOUT THE AKRON-CANTON AIRPORT
The Akron-Canton Airport (CAK), located in Green, Ohio offers nonstop air service to 18 destinations and just one stop to the world, CAK connects Northeast Ohio residents to the places they need to go. Customers can choose from four carriers including Allegiant Air, American Airlines, Breeze Airways, and United Airlines for their travel needs.
###
Media Contact
Phone: 330-499-4059
Email: info@akroncantonairport.com