Posted December 13, 2022 in Press Releases
Looking for lower fares? Check Akron-Canton Airport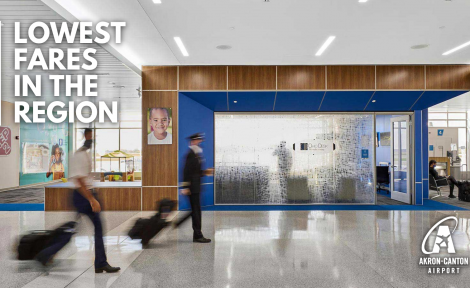 Average price of flights from CAK lower than other neighboring airports
In 2019, Akron-Canton Airport had the highest fares of neighboring airports, Cleveland Hopkins (CLE), Pittsburgh International (PIT) and Columbus International (CMH). As of the latest reported quarter (second quarter of 2022) CAK now offers the lowest average fare of area airports.
CAK $151
CLE $185
CMH $199
PIT $203
Source: Cirium U.S. DOT O&D Airport Report for flights from CAK, CLE, PIT, CMH for travel YE Q2 2019 and 2022
"Welcoming low-cost carriers Allegiant Air and Breeze Airways to our air service portfolio has certainly helped to reduce fares at CAK," said Ren Camacho, Akron-Canton Airport President and CEO. "While the average price travelers pay to fly from CAK continues to decrease, what continues to increase is the ease and convenience of our Airport. From on-site parking and rental cars to newly constructed terminal facility and sense of place artwork, it's easy to see why CAK is a better way to go."
Allegiant Air operates nonstop, year-round flights to Savannah / Hilton Head, St. Pete / Clearwater, Sarasota / Bradenton, Ft. Myers / Punta Gorda, Ft. Lauderdale/Miami, Orlando/Sanford and will launch service to Nashville in February 2023.
Breeze Airways offers affordable, nonstop service year-round to Charleston, Palm Beach, Nashville, Las Vegas, Tampa and seasonal service to New Orleans. Breeze is currently selling flights to Orlando, which will launch in March 2023.
American Airlines offers nonstop service to Charlotte and Washington D.C. while United Airlines offers nonstop service to Chicago. Each of the hubs are excellent connecting points to Europe, the Caribbean and other
---