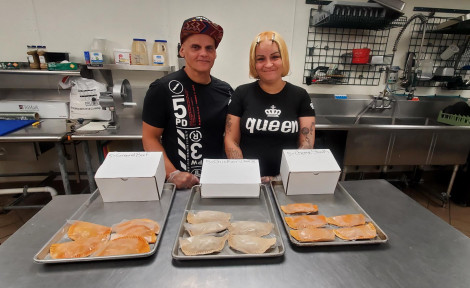 Puerto Rican Dishes Elevate Airport Options
La Reina Boricua Debuts Recipes at Akron-Canton Airport
Debuting in alignment with Hispanic Heritage Month, Akron's popular La Reina Boricua is sharing exciting, deeply rooted Puerto Rican dishes at Akron-Canton Airport (CAK) through the airport's business catalyst program.
Airport guests can now enjoy traditional empanadas including chicken and cheese; beef and cheese; or steak and cheese. Empanadas can be purchased solo or served with a side of arroz con gandules (rice with pigeon peas, Puerto Rico's national dish) for $14.99. La Reina Boricua will also be offering strawberry shortcake and bread pudding.
For La Reina Boricua co-owners Monica and Julio Berrios, what started as a home kitchen six years ago has quickly expanded since the pandemic hit.
"We helped different hospitals, stores, homeless, and those who were just hungry!" Monica said.
In the winter months the couple personally delivers food to customers and in warmer months spends their time serving delicious Puerto Rican dishes at Reservoir Park in Akron.
Monica is not new to Puerto Rican cuisine; she has been cooking for over 30 years with a start in Puerto Rico.
"My experience cooking started as a young girl. When I was five my mother and grandmother taught me to cook alongside them," recalled Monica. "When I moved to the United States, I pursued my interest by earning a cooking degree and license to sell food. Julio and I brought our ideas together as a dream come true for our future investment and now, we are presenting the world with delicious foods and a variety of appetizers!"
Family influences have helped shaped Monica's culinary path, with no exception to her start at the airport. After her sister alerted Monica of the catalyst program, she quickly connected with the airport and United Concessions Group (UCG) to bring her product to thousands of CAK passengers and employees each week.
"We are always looking to emphasize a sense of place at CAK, and an important aspect of that is showcasing the diversity of Northeast Ohio," said Ren Camacho, CAK President and CEO. "Monica and Julio's creations not only allow guests to explore new food, but also draw awareness to the strong Puerto Rican culture in our area."
"UCG was excited to hear Monica and Julio's story and wanted to help spread their delicious Puerto Rican dishes and bring a new twist to CAK concessions," said Spencer Shaw, UCG Executive Vice President. "In terms of expansion once people are hooked, we hope to bring more to the menu at CAK such as breakfast empanadas!"
After an empanada with a side of arroz con gandules, if La Reina Boricua inspires a trip to Puerto Rico, the destination is just one, quick stop from CAK aboard American or United Airlines.
###
About CAK's Business Catalyst Program
CAK's business catalyst program aimed to encourage the success of disadvantaged and minority owned business enterprises by supplying terminal space at a trial rate.
By eliminating the financial barrier of rent, a physical storefront or installation can be tested for various products and services to gauge long-term success. Upon establishment, rent is $1 per 30 days for the initial 180 days of implementation on airport property. Beyond day 181, the business and airport have the option to enter into a traditional concession agreement.
Apply here: https://www.akroncantonairport.com/home/business/opportunities/business-catalyst-program/