Posted May 27, 2021 in Employee
CAK Employee Spotlight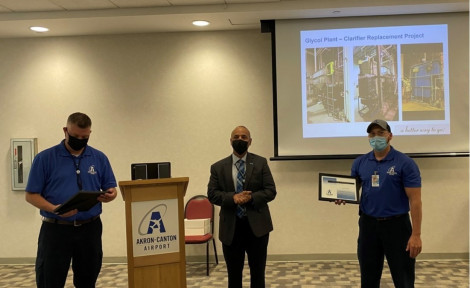 Scott Hostler and Adam Dietry have been recognized as "a better way to go" award recipients.
Scott and Adam have delivered environmental services above and beyond their normal day-to-day operations. At the glycol plant, the Clarifier Replacement Project required the temporary suspension of traditional glycol plant activities that required close monitoring of all systems by Scott and Adam, at times on nights and weekends. These efforts took much of their time away from their normal responsibilities at the glycol plant. In addition, Scott has been training Adam on the daily function of the plant, along with other environmental services at the Airport. Scott and Adam were are also available to assist with Airport snow removal operations. Both deserve a tremendous amount of recognition for keeping the Airport environmentally safe and within regulatory compliance.
Thank you for being accountable team members.
Congratulations, Scott and Adam!
---