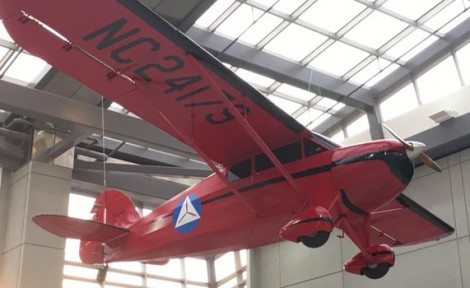 Honoring the 1940 Funk Model B-75L, Built in Akron
GREEN, OH – The Akron-Canton Airport (CAK), MAPS Air Museum and Civil Air Patrol dedicated a very local, historic aircraft today at CAK.
The Funk Model B-75L, built in 1940 by the Akron Aircraft Company, resides airside and is the only example of a civil aircraft on display inside a commercial airport in the United States.
"MAPS Air Museum is not only a treasure on the CAK airfield, but also throughout the nation," said Ren Camacho, President and CEO of the Akron-Canton Airport. "It was an early mission of mine to bring aviation history into the terminal for travelers and guests to enjoy. With the incredible partnership and passion of MAPS, we were able to bring that goal to fruition with The Funk."
John L. Crouse of Crossville, TN donated the plane to MAPS Air Museum. It took six months, a 21-person crew and 1,022 manhours to restore The Funk to its present condition.
A vibrant, red paint job pays homage to the original factory color and is a stark contrast from the pre-restoration rust and yellow. Honoring the time this specific aircraft spent with the Civil Air Patrol during WWII are Civil Air Patrol markings from the summer of 1943 in the Chicago area.
"One day Ren came to the Museum and was looking for a plane to hang in the atrium of the terminal," said Bruce Balough, MAPS Hangar Manager. "When MAPS Executive Director Kim Kovesci showed Ren the plane and told him it was built just up the road in Akron, we knew what was next. This was truly a team effort."
The aircraft took a team of 11 to hoist and secure it into its new home in the CAK atrium. The Funk, along with other iconic pieces such as Akron and Canton murals, can also be viewed by the public from the second-floor observation area.
While the current backdrop is construction, by 2021 the Funk will hang before a glass curtain wall and tout a backdrop of taxiing aircraft on the new apron, replacing the 1960s Y Concourse. The Funk's history will remain preserved for years to come.
###