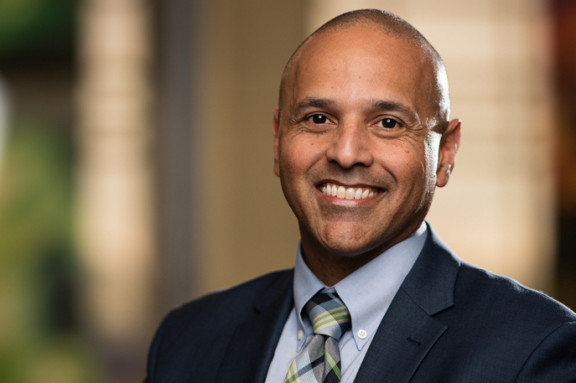 Renato "Ren" Camacho is the President and Chief Executive Officer of the Akron-Canton Airport following a unanimous appointment by the Airport Authority's Board of Trustees in 2018.
Ren's core responsibilities include leading a 60-member team of airport employees, strategic planning for the future of the airport and directing all capital improvement programs. Specifically, Ren ensures the airport is a vital, economic engine that increases economic activity and pride to Northeast Ohio.
Ren has over 30 years of professional experience in the aviation and transportation engineering sectors, specializing in program management and customer service. He has implemented over $340M of federally and locally-funded projects for initiatives including: runway safety area improvements, master plans, lease negotiations with airlines, new business development initiatives and major airport infrastructure projects.
Most recently, Ren served as Chief of Planning and Engineering with the City of Cleveland's Department of Port Control, which oversees Cleveland Hopkins International Airport, Burke Lakefront Airport, and the Lakefront Harbors.
Prior to his Cleveland tenure, Ren spent 14 years with the Port Authority of New York & New Jersey, working in various capacities to complete major capital infrastructure projects including: World Trade Center site, George Washington Bridge, NY metro airports, Port Authority Bus Terminal and Holland/Lincoln Tunnels.
Throughout his career, Ren has strived to identify the operational and business aspects of long-range infrastructure, facility planning and development initiatives. He possesses a sound knowledge of FAA requirements including CFR Part 139 certification, airport security plans, airport planning, noise compatibility, lease agreements and grant assurances.
Ren received his Master's Degree in Transportation Planning & Engineering from Polytechnic Institute of New York University and Bachelor of Science in Civil Engineering from Rensselaer Polytechnic Institute. He is a registered Professional Engineer in the state of Ohio and a Professional Traffic Operations Engineer. He serves on the Akron Summit Convention & Visitors Bureau Board of Directors, American Heart Association Stark County Executive Leadership Team, Canton Regional Chamber of Commerce Board of Directors, Greater Akron Chamber Board of Directors, Lake Township Board of Directors, Stark Economic Development Board of Directors, Visit Canton Board of Directors, Aultman Health Foundation Board of Directors, ACE Mentor Program Advisory Board, Akron Public Schools - College & Career Academies Advisory Board, and is a member of the Ohio Latino Affairs Commission's Akron/Canton Networking Group.
He has also received the designation of an Accredited Airport Executive (AAE) from the American Association of Airport Executives (AAAE).